Dustin Ackley – arguably the most heralded UNC Baseballer of recent vintage – has been traded from the Seattle Mariners to the Yankees.   Hopefully the move will jumpstart "Gold Dust's" MLB career which has been "moribund" to be kind.
The #2 draft choice when he came out of Caroina in 2009, somewhere between Boshamer and Seattle, Ackley "forgot how to hit".   As fine a natural hitter as the college game has seen this Millenium, with a UNC career average that hovered around .400, Ackley's Mariners' career has hovered around The Mendoza Line (.220) or worse.
For sure, Ackley joining the Yankees means the end of his "caveman look" which has paralled his aforementioned "moribund" MLB career.
With The Yankees, Ackley joins UNC's Andrew Miller and Adam Warren…. and the cross-town Mets' UNC's Matt Harvey a/k/a "The Dark Knight of Gotham".   UNCers can hope this move will do for Ackley, what Danny Green's pick-up by The Spurs has done for his pro career.
###
Yankees get Ackley from Mariners for prospects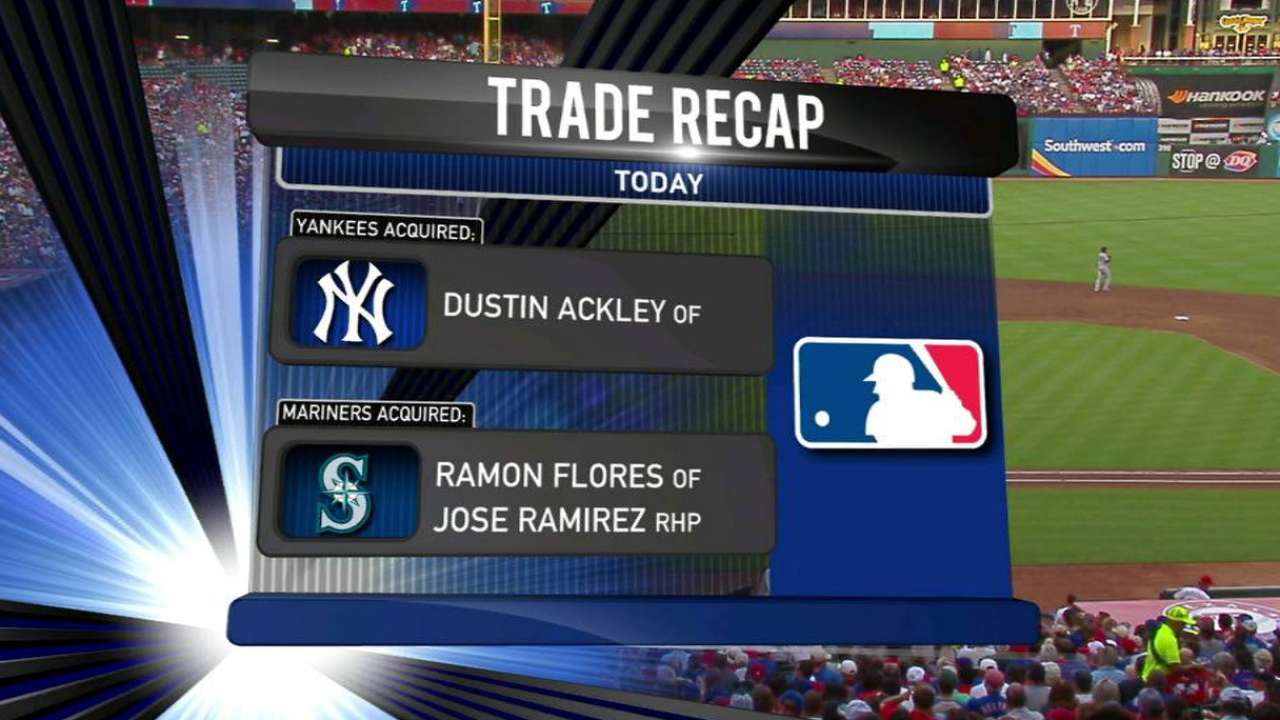 ARLINGTON — The Yankees joined the busy buildup to Friday's 4 p.m. ET non-waiver Trade Deadline with a smaller move on Thursday, acquiring infielder-outfielder Dustin Ackley from the Mariners in exchange for Minor League outfielder Ramon Flores and Minor League right-hander Jose Ramirez.
Manager Joe Girardi said that the team liked Ackley's versatility, envisioning him as a piece that could help them at all three outfield positions as well as first and second base while the Yankees fight for a postseason berth.
"Especially as we move forward here and you're trying to spell guys, his versatility should help out in that situation," Girardi said. "You get a guy that you can put at five different spots, that's pretty good."
• Photos of the day: Ackley shaves beard
Ackley is expected to join the team in Chicago on Friday, and he gives the Yankees three alums from the University of North Carolina on their active roster, joining left-hander Andrew Miller and right-hander Adam Warren.
"I think he's extremely talented," Warren said. "He's a good guy, works hard. It's just one of those things where you hope he can fit in with the club, and I think he will. He's super quiet. I think he plays hard, and just going off what I know at Carolina playing with him, he's super talented and a gamer. I'm hoping to see him do that over here."
The No. 2 overall pick in the 2009 Draft, Ackley has batted .215 with six homers over 85 games for Seattle this season. Ackley split time between second base and the outfield in '13, and he has spent the majority of his time as an outfielder over the past two years.
Since Ackley has only made one appearance at second base this season, the Yankees will not use him to supplant Stephen Drew as the starter. Girardi said that the Yanks will decide on a corresponding roster move on Friday, but Brendan Ryanand Garrett Jones could be on the roster bubble.
"He's played left, center and right, so it's a position where we can move him around all over there," Girardi said. "He has not played much second, so obviously he would have to work there before we would feel comfortable putting him there."
As for the pair of prospects the Yankees are sending to Seattle in return, Flores checked in as No. 28 on New York's list, according to MLBPipeline.com. Flores made his Major League debut on May 30 and had gone 7-for-32 (.219) over 12 games, and he had been playing with Triple-A Scranton/Wilkes-Barre.
Ramirez, meanwhile, had allowed five earned runs in three innings (15.00 ERA) in three appearances with the Yanks this season. He made his Major League debut last June and had a 5.40 ERA over eight big league appearances in 2014.
"I think the development in our system has given us more depth that we feel like we can do some things," Girardi said.
Bryan Hoch is a reporter for MLB.com. Follow him on Twitter @bryanhoch, onFacebook and read his MLBlog, Bombers Beat. This story was not subject to the approval of Major League Baseball or its clubs.