"My buddy", the ever notorious "That Damn" Art Chansly (1) perp walks Sylvia Hatchell up the steps to Madame Guillotine …. (2) nudges her to the rim of the volcano…. (3) revs up the bus and tosses Sylvia under it…. bump, bump…. NOT ONCE BUT TWICE in scathing back-to-back commentaries.
If any harm befalls Art over the next few days, I sure hope "Albert" has an air-tight alibi.   OUCH!
NOTE:  Reader Comments on THIS are sure to be "memorable".  Check'em Out Below.
###
Chansky's Notebook: Hatchell's Play Wrong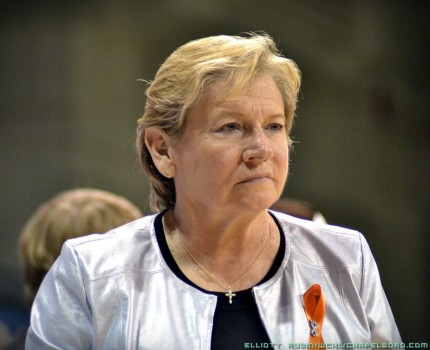 This is today's Art Chansky's Sports Notebook as heard on 97.9 WCHL. You can listen to previous Sports Notebooks here.
Sylvia Hatchell is making a bad situation worse.
Women's Hall of Fame basketball coach Sylvia Hatchell is garnering public support for a contract extension,  similar to those awarded to Roy Williams, women's lacrosse coach Jenny Levy and women's tennis coach Brian Kalbass.
There are several reasons why this is a bad move by Hatchell, who should be working behind the scenes to keep her job instead of comparing her plight to three coaches who deserved their contracts to be extended when she did not.
Hatchell's program is in the most serious trouble from the NCAA's Notice of Allegations in May. She may not have known anything about the lines that former academic advisor Jan Boxill crossed, but as the CEO Hatchell is ultimately responsible. Just as Butch Davis was and just as Roy Williams would be if his program were hit hard by the NCAA.
Her supporters are calling Hatchell and women's hoops sacrificial lambs in the NCAA investigation that will lead to some sanctions for the university for lack of institutional control in the AFAM scandal. But, based on the allegations, Hatchell's program is very likely to receive its own penalties. Until that is determined, a contract extension is last thing she should get. An exit strategy should be her play.
Hatchell doesn't have a strong enough case to be marshaling her forces against a new chancellor and new athletic director who did not hire her and, very likely, will fire her if women's basketball draws probation and/or penalties. She's had a great career, won a national championship, more than 900 games and, most importantly, her fight against Leukemia. If she goes out, it should be with grace.
In some ways, she IS a victim of an NCAA witch hunt that UNC is fighting with millions of dollars in legal fees. Williams got an extension because he is underpaid compared to his peers and he needs a public vote of confidence to help his recruiting that has taken a beating the last two years. And the biggest difference:  Williams' program was not cited in the NOA.  Hatchell's was.
That's why a planned response would be better than firing off guns against a target that cannot, and should not, help her until the verdict and sentences are in.
Art's Angle: Hatchell Should Go Gracefully
Hiring Sylvia Crawley as an assistant coach is the right play for Sylvia Hatchell. Getting her friends and colleagues in the university to lobby for an extension to her contract is the wrong play.
Crawley, a star player and captain of the 1994 Tar Heels, will be seen by many people as Hatchell's successor after she resigns following the 2016 season or is fired. Hatchell cannot survive as the Carolina coach for reasons that go beyond her program's complicity in the NCAA allegations.
That first. Her support group calling women's basketball a "sacrificial lamb" is ill-advised, some would say stupid. Anyone who reads the Notice of Allegations can see where Hatchell's program is cited through the actions of former academic advisor Jan Boxill, the long-respected faculty member who was fired for her role in the AFAM scandal. Beyond the substantial fine the university will receive for a "lack of institutional control," women's basketball is the sport most likely to be penalized. One of the five allegations is entirely devoted to emails between Boxill and the AFAM department.  If so, Hatchell will be held accountable as the CEO of the program.
Just as Butch Davis was fired for, among other things, violating his contract by hiring a coach (John Blake) who broke NCAA rules. UNC firing Davis "without cause" and paying him the balance of his contract worth between $11 and 12 million seemed foolish, but the university did not want to invest the time and legal fees to defend a prolonged lawsuit that Davis surely would have filed. Any Carolina coach whose program breaks NCAA rules, including Roy Williams, should be and would be fired.
Second, the collateral damage from the NCAA probe that has injured almost every Tar Heel sports team in recruiting has just about killed women's hoops. Hatchell has lost the No. 1 recruiting class of 2013 — from Diamond DeShields transferring to Tennessee after her All-ACC freshman season to Jessica Washington, Allisha Gray and Stephanie Mavunga leaving this summer. Only Gray acknowledged that the stigma of the NCAA investigation caused her departure, but surely Washington and Mavunga feel the same way. These women worry that their association with a tainted team will hurt their professional careers, in and out of basketball, moving forward.
Clearly, Hatchell's program has become fatally flawed and a change must be made to start over. Hatchell is a Hall of Fame coach who has won a national championship (1994) and more than 900 games. She also won her courageous battle against Leukemia that kept her off the bench during the 2014 season. She has been a great representative of the university until the NCAA revelations that have divided the campus and caused fractures in the athletic department itself.
Athletic Director Bubba Cunningham must negotiate an athletic program, 98 percent of which still operates and succeeds at the highest level, through the awful hand he was dealt when he took over for Dick Baddour in November of 2011. Aware he was inheriting the three-year probation in football for impermissible benefits during the Davis era, Cunningham said recently that he had not heard the acronym "AFAM" until a few months into his job.
The Rams Club continues to raise money at record levels, proving an angry alumni and fan base has not deserted the program, but by charter can only pay for scholarships and capital improvements. Cunningham is stuck with about an $80 million operating budget with most of its revenue streams maxed out. Sure, UNC gets an occasional windfall from additional post-season payouts from the ACC, but not enough to increase salaries and recruiting budgets for all but two of UNC's 28 sports that do not make money.
When revenues are flat, expenses need to be cut. Cunningham and UNC are committed, for now, to a broad-based program driven by participation for as many varsity athletes as possible. But that will have to change one day. Current Title IX guidelines dictate any sport cut will be on the men's side, and Cunningham has an opportunity to start by dropping the struggling wrestling program after he recently fired veteran coach and former Tar Heel All-American C.D. Mock. Wrestling gives out all 9.9 scholarships allowed by the NCAA, so that could save some money for the Rams Club. Also, coaches' salaries and recruiting and travel costs would be eliminated from Bubba's budget. Wrestling could still be offered as a club sport, where UNC's program is among the biggest and most successful in the country.
Women's basketball loses more money than any sport at Carolina. Hatchell earns about a million dollars from her state salary, stipends and her successful summer camp. The team draws sparse crowds to revamped Carmichael Arena, employs eight assistant coaches or support personnel and has significant recruiting and travel budgets. UNC has a "cost per athlete" metric computed by revenues versus  expenses divided by the number of players on a team. While losing about $2.5 million a year, Hatchell's program has the highest cost-per-athlete of all women sports and one of the highest of all 28 teams.
Surely, UNC can play competitive women's basketball for half the cost. The money saved could be spread across all other women's sports, increasing subpar coaching salaries and recruiting budgets in most of them. It is truly amazing that Carolina athletics continues to finish high in the Learfield Director's Cup (fifth in 2014-15) with an operating budget far behind schools like Stanford, Ohio State and Texas.
Changes are on the way. They need to include women's basketball where, after one season as Hatchell's well-traveled and accomplished assistant, Crawley becomes the new face of the program. She has already held three head-coaching positions and is respected in the profession. Her charge would be to rebuild the Lady Tar Heels for less than what it has cost UNC, monetarily and otherwise, under Hatchell.